Buy the Simple Stock Manager script now sold on the world's largest theme and template site Codecanyon. This theme listed on Codecanyon is very new yet. You may be one of the first to try.
Script & app name: Simple Stock Manager
---
Script & app name price: 15$
---
Script & app category: php-scripts/miscellaneous
---
Script & app published: 2012-07-30T18:41:07+10:00
---
Script & app update: 2020-09-25T11:18:01+10:00
---
Script & app sales amount: 1011 (New)
---
Script & app rating: 4.44 (New)
---
Script & app tags: php,php stock,simple inventory,Simple Stock Manager,stock,stock manager
---
Script & App Description
Simple Stock Manager is php based web application that help you to manage your stock. New version v2.0 come with miltiple check-in/check-out items, Import by csv, Barcode/Label printing, Categories, Backups and Single click update features. Manage your stock, check-ins and check-out from anywhere, Office, Home, Warehouse or on the go. You even can install it with localhost to use without offline without internet.
Demo Details:
Link: https://ssm.tecdiary.net/
Username: [email protected]
Password: 12345678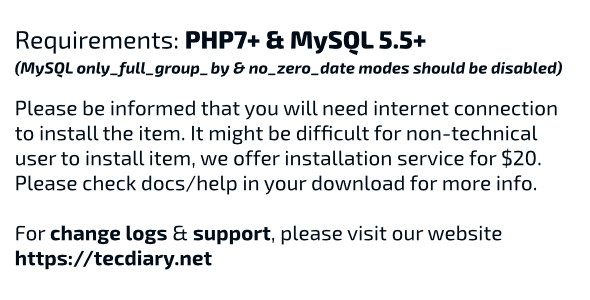 Change log
https://tecdiary.net/changelogs/simple-stock-manager
Stock Manager Advance with Point of Sale Module